Flat Roofing
Felt, Rubber & Fibreglass
Thompsons Roofing and Fascias - Specialists in flat rubber roofing
Flat roofing is a common type of roofing seen in the UK and elsewhere.
Thompsons Roofing & Fascias offers quality flat roof fittings repairs and upgrades with a wide range of materials.
We always take our time with new installations and maintenance work alike, so that you can be assured of the best quality possible.
A flat roof is a roof which is almost level in contrast to the many types of sloped roofs.
The slope of a roof is properly known as its pitch and flat roofs have up to approximately 10°.
A flat roof has to have a slope in order for the rainwater to drain away.
Flat roofs are normally used on garages, bay windows, outbuildings etc.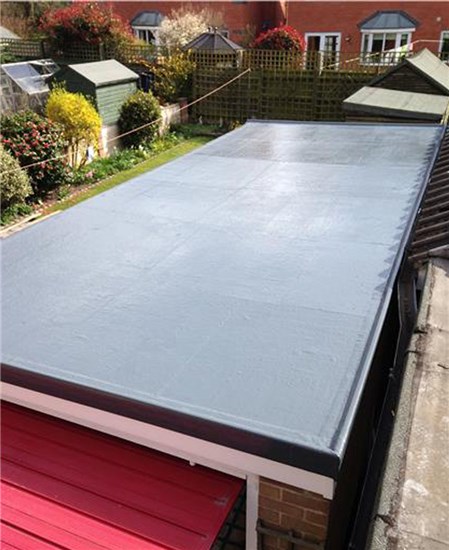 The ultimate stylish flat roofing system, with a building 50 years guarantee. With full BBA certification and a 25 year product and craftmanship guarantee, GRP Fibreglass Systems represents the ultimate stylish and practical flat roofing system that money can buy.
Developed and manufactured in the UK by a leading team of scientists and product engineers and installed by fully trained and approved installers all over the UK, a GRP Fibreglass System is designed to provide complete waterproof protection for 100 years or more, with more than 1000 different combinations of colours, styles and finishes available, your finished GRP Fibreglass System installation will provide a sense of perfection and style only GRP Fibreglass System can deliver, whether it's a small dormer or porch, new-build green roof, historic building or iconic cutting-edge architecture, GRP Fibreglass System's versatility will ensure that it fits in seamlessly with your plans.
GRP Fibreglass System quality promise is second to none. Support is provided by a UK-based customer; technical support team, plus an extensive network of highly trained and approved GRP Fibreglass System installers. With GRP Fibreglass Systems, you're guaranteed to have the ultimate flat roof in the UK and one which will stand the test of time.

Call us if you need to ugrade your flat roof to:
Firestone RubberCover™
We ensure that EPDM membranes are always fully adhered to the substrate.
We apply Bonding Adhesive both to the membrane and the substrate.
Firestone RubberCover™ EPDM membranes are available in large, seamless sheets, so that most small residential roofs can be covered with one single sheet.
Firestone RubberCover™ EPDM membranes can be installed on both new and existing roofs.
The membranes can overlay virtually any old roof, provided the roof decking is sound and the existing structure can carry the load of the new roofing system.